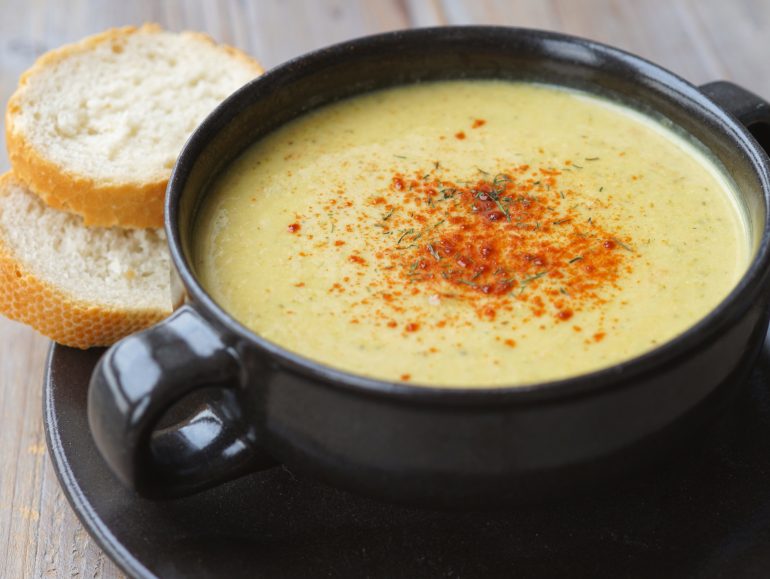 This vegan soup so really creamy, tasty and delicious, I just had to share it with you. The recipe was inspired by the Cheddary Broccoli Soup from Isa Does It by Isa Chandra Moskowitz. I am a huge Isa fan and this book is one of my favorites. She does nog have lot of low carb recipes, but if you know your cauliflower rice and rutabaga mash, you can easily transform most of them into a low carb favorite.
The cheesy flavor of this soup comes from a combination of miso, nutritional yeast, lemon juice and unroasted cashews (you could use soy cream or almond butter for even fewer carbs). You can get these ingredients from a health food store. I always have them on hand for vegan cheese cravings. This soup is quite quick to make, but make sure to soak or boil your cashews in advance if you do not have a high powered blender. Serve on its own or with some crackers or low carb bread.
Ingredients
1 tablespoon oil
1 onion, chopped
1/2 teaspoon salt
3 cloves garlic, pressed
1 pound broccoli, use both stem and florets
1 large carrot, in chunks
1/2 teaspoon turmeric
750 ml water
1 vegan bouillon cube
100 gram unroasted cashews, boiled for 10 minutes or soaked for 2-4 hours
250 ml water
2 tablespoons shiro miso
2 tablespoons nutritional yeast flakes
2 tablespoons lemon juice
Freshly ground pepper to taste
Instructions
Preheat a large pot on medium high heat and sauté the onion in the oil until soft and fragrant. Add the garlic and sauté for half a minute more. Add the broccoli, carrot, turmeric, 750 ml water and bouillon and bring to a boil. Cook for about 10 minutes until the carrots are soft.
In the mean time, make the cashew cheese sauce. Puree the soaked cashews in a blender along with the miso and nutritional yeast into a completely smooth liquid. Depending on the strength of your machine, this could take up to several minutes.
When the vegetables are cooked, puree the soup. It's nice to have a little texture from the broccoli and carrots, so don't make it too smooth. Add the cashew sauce to the soup and allow to simmer for another 10 minutes so it can thicken. Finally, add the lemon juice and freshly ground pepper. Taste the soup and add a bit more lemon juice, pepper or salt if you think it needs that. Serve on its own or with low carb bread.