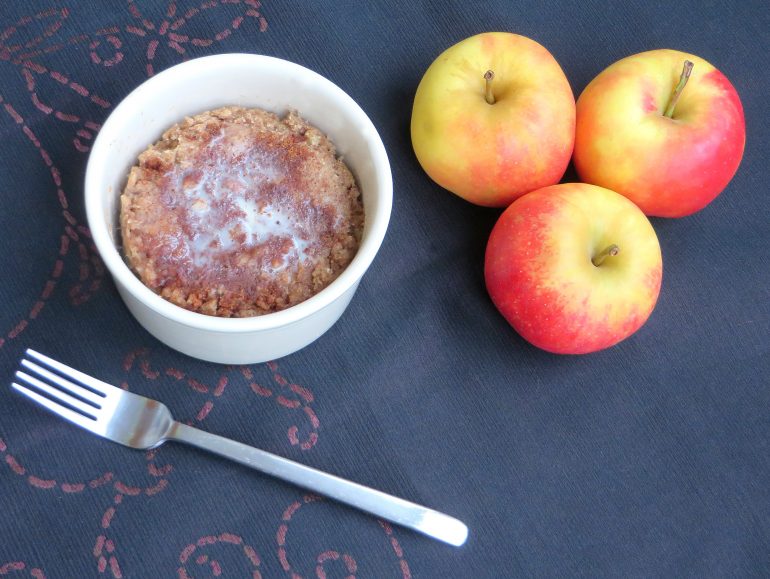 I came across this recipe for low carb protein mug cakes that had a very easy vegan option: 'just leave out the egg'. You can imagine I felt it call my name, but I was 'busy' and scared to be disappointed, so it took me a while to actually make them. Obviously I broke down eventually, and WOW these things are good.
Without the egg they are a bit more like squishy pudding than actual cake, but that is really not a bad thing. I am amazed how carby the mouthfeel is, with such simple ingredients. The base is just protein powder and coconut flour, with some plant milk and flavorings added to it. They are very quick to make and lovely to have as a quick breakfast or filling snack.
The original recipe is oil free, but I added a bit to have some all-important fueling healthy fats in there. You could also use nut butter instead of oil. Mmm, thinking about peanut butter cinnamon mug puddings now! Of course the variations are endless. You could add cocoa powder, berries or other fruit, pumpkin puree and pumpkin spice, lemon and poppy seeds... I am going to have a lot of delicious fun with this recipe.
Ingredients
1 scoop / 32-34 grams protein powder (I used unflavored soy)
1 tablespoon coconut flour
1/2 teaspoon cinnamon + more for sprinkling
1/2 teaspoon baking powder
1/2 cup + 1 tablespoon plant milk of choice (I used unsweetened soy)
1 teaspoon vegetable oil of choice
1/4 tsp vanilla extract
concentrated liquid sweetener to taste
1 tsp granulated sweetener of choice (optional)
Instructions
In a small bowl (or mug), mix the protein powder, coconut flour, cinnamon and baking powder. Stir in the milk, oil, vanilla extract and liquid sweetener until it forms a smooth doughy batter. Make sure all the dry flour is incorporated.
Transfer to a mug or ramekin (or bake it right in the mug you mixed it in) and flatten it with a spoon. Sprinkle on some extra cinnamon and optional granulated sweetener. Microwave on high for 2 1/2 minutes until a toothpick comes out clean. Let the muffin sit for another 3 minutes to cool down and firm up. You can pour on a litle bit more plant milk now, so make it even more pudding-like. Eat and enjoy!
According to the original recipe, you can also bake this in the oven if you have a little bit more time. Preheat to 350 F / 175 C and bake for 10-15 minutes.