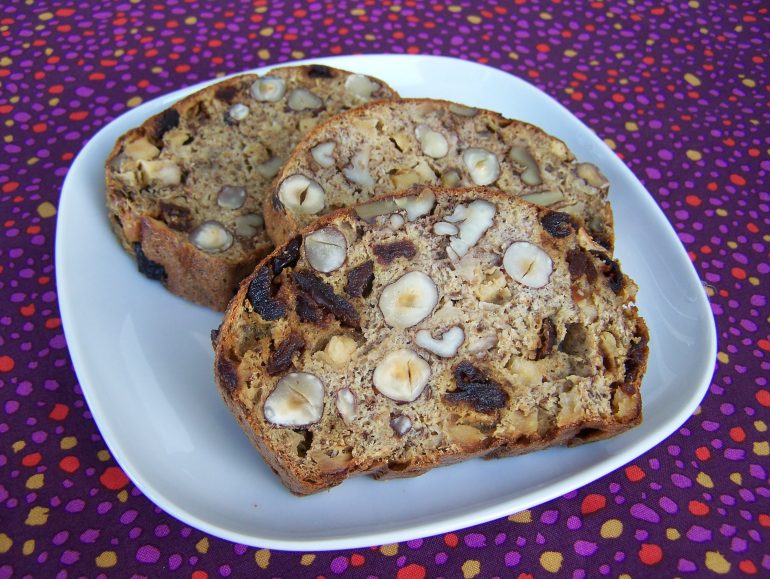 This recipe came from a loose leaflet that I found in an old cookbook that we got from David's granny. I love getting inspiration from these old family recipes. First I veganized it by repalicing the milk and eggs with alternatives, and then I made it low carb by replacing the wheat flour with my low carb bread flour mix.
This bread tastes great and is super filling. There is no yeast, so it is very quick and easy to make. Just throw everything into a bowl, mix it and bake it. It makes a great snack of even a quick meal when you are on the go. It freezes very well, so you can easily make a loaf or two and thaw slices as you need them.
Ingredients
2 tablespoons flax meal
3 tablespoons water
2/3 cup vital wheat gluten
2/3 cup wheat bran
2/3 cup soy flour
2/3 cup raisins or cranberries (optional)
2/3 cup walnuts
1/3 cup hazelnuts
1 1/2 teaspoon baking powder
1/2 teaspoon salt
1 1/2 cup unsweetened soy milk
concentrated liquid sweetener to taste
Instructions
Preheat the oven to 190 C / 375 F. Grease a rectangular bread pan (you could also line it with parchment paper).
Mix the flax and water in a small bowl and set aside for a moment to thicken. Mix the flours, raisins, nuts, baking powder and salt in a big bowl. Poor/scoop the doughy batter into the bread pan and smooth it with a spatula or spoon. Bake the bread for 50 minutes. Let it cool completely and then take it out of the pan. It will keep for a day or two at room temperature or for a few months in the freezer.