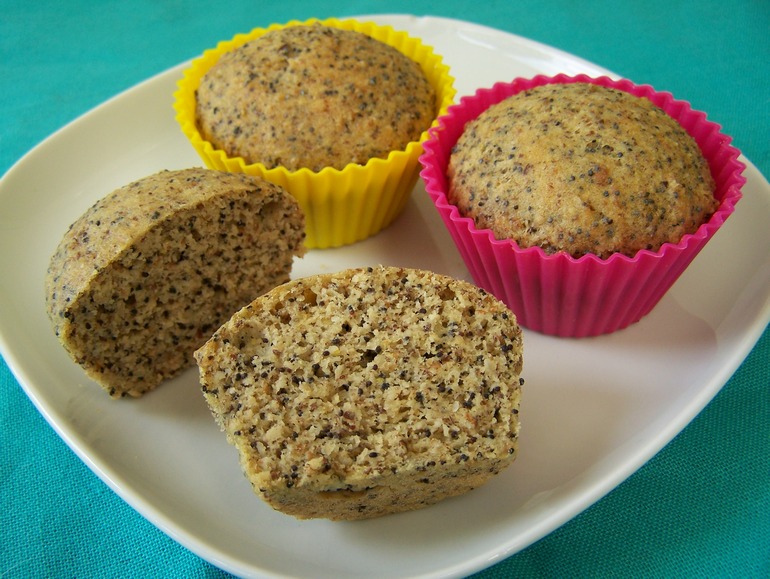 Low carb vegan baking is a bit of a challenge. Normal vegan baked goods get their texture from starch and sugar, while low carb baked goods often rely heavily on chicken eggs. With these muffins I came pretty close to 'cracking the code', if I do say to myself. I used a combination of vital wheat gluten, flax and soy flour for texture, and added lots of goodies to get that lovely lemon-poppy seed flavor. Once you have all the ingredients, they come together very quickly too.
With all those high protein ingredients, these little cakes are very filling. They are a perfect snack to bring with you to work or when you are going on a trip. Unfortunately, they only keep for about two days at room temperature. They freeze and thaw very well though, so you can easily make a big batch and put them in the freezer for when you fancy something sweet.
Ingredients
1/2 cup (70 g) vital wheat gluten
1/2 cup (50 g) ground (yellow) flaxseed
1/2 cup (40 g) soy flour
1/2 cup (20 g) wheat bran
1/4 cup (30 g) almond flour
2 to 4 tablespoons poppy-seeds
1 1/2 teaspoon baking powder
1/4 cup (60 ml) neutral tasting oil (like sunflower or canola)
1 cup (240 ml) unsweetened soy or almond milk
1/4 cup (60 ml) lemon juice
1 1/2 teaspoon concentrated liquid sweetener (or to taste)
1 tablespoon lemon zest
1 1/2 teaspoon vanilla extract
Instructions
Preheat the oven to 180 C / 350 F. Mix all the dry ingredients in a big bowl. Add the liquid ingredients and mix with a fork until it forms a smooth batter. The batter starts out a little liquid, but it will soon thicken into a soft sticky dough. Divide the batter over 12 to 15 greased muffin tins. Put in the oven and bake for about 25 minutes. Allow to cool and enjoy!
One muffin (of 15) contains about 105 kcal, 8 g fat (1 g saturated), 2 g net carbohydrate, 3 g fiber en 7 g protein.