by
in
| | |
| --- | --- |
| Tags: | Proteins |
| Time: | Preparation time , cooking time , total time |
| Serves: | 2 people |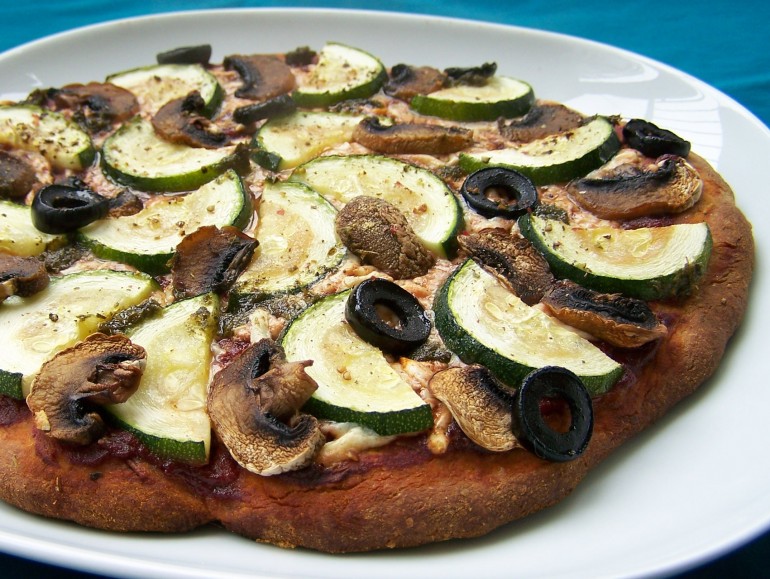 I really like pizza, real pizza. Cauliflower crusts and what have you can be good too, but sometimes I just want my pizza to have a bread crust. That's where this recipe comes in. As in my other low carb bread recipes, I used wheat gluten for authentic bread texture, but replaced the starches that are in normal flour with proteins and fiber.
The ingredient list seems kinda long, but that's mostly because of all the spices that go into this. It's not a complicated recipe. You can top the pizza any way you like. I just suggested some of our favorites.
Because of all the high protein flours, this recipe is incredibly filling. Half a pizza will easily fill you up, so one pizza serves two. If you want to lower the carb count even more, replace the soy flour with protein powder.
Ingredients
For the crust
1/2 cup (40 g) soy flour or protein powder, plus a little extra for rolling out the dough
1/3 cup (40 g) vital wheat gluten
1/4 cup (25 g) flax meal (use golden for a light colored dough)
1 tablespoon wheat bran (optional)
2 tablespoons (15 g) almond flour
1 teaspoon instant yeast
1/2 cup (120 ml) luke warm water
1/2 teaspoon olive oil
1/4 teaspoon garlic powder
1/4 teaspoon thyme
1/4 teaspoon oregano
1/4 teaspoon salt
The toppings
2 heaping tablespoons tomato puree
1/4 teaspoon garlic powder
1/4 teaspoon thyme
1/4 teaspoon oregano
1/3 cup (40 g) grated vegan cheese
1 tablespoon basil pesto
1/4 zucchini, sliced thin
3 button mushrooms, sliced thin
3 olives, sliced
olive oil spray
pepper and salt to taste
Instructions
Make the crust
Put the dry ingredients (soy flour to thyme) into a bowl. Make sure they are well mixed and there are no lumps. Add the water and olive oil and mix with a fork until it forms a dough. Knead the dough with your hands for a minute or two.
Sprinkle a little extra soy flour or protein powder on a clean work surface and with your hands or a rolling pin, form the the dough into a thin round disk with a 25 cm/ 10 inch diameter. Transfer the disk onto a piece of parchment paper and cover it with plastic wrap. Put it in a warm spot and let it rise for one hour until the dough has puffed up a little.
Top and bake the pizza
Preheat the oven to 200 C/ 400 F. Make a quick tomato sauce by mixing the tomato puree with the garlic, thyme and oregano. Spread the sauce onto your pizza crust. Sprinkle the cheese onto the sauce and divide little dots of pesto over the pizza. Put on the sliced zucchini, mushrooms and olives in a nice pattern. Spray the pizza with some olive oil (or brush some on if you don't have a spray can) and sprinkle it with a little salt and pepper. Bake the pizza for about 20 minutes, until the toppings are done and the edges have browned.
Nutritional info
Half a pizza crust (one serving) without the toppings contains about 343 kcal, 21 g fat (2 g saturated), 9 g net carbohydrate, 8 g fiber and 26 g protein.
Half a pizza (one serving) with toppings contains about 470 kcal, 32 g fat (3 g saturated), 15 g net carbohydrate, 8 g fiber and 28 g protein.