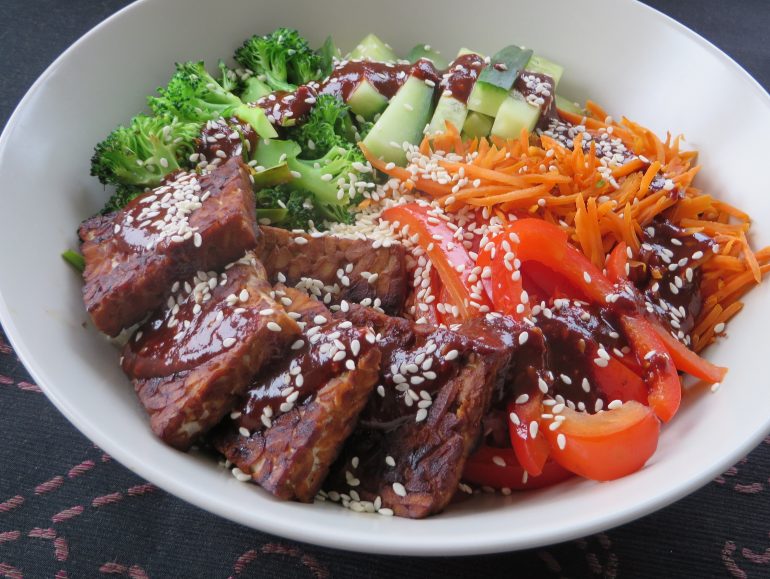 I finally managed to find gochujang Korean fermented chili paste in Amsterdam. I love the flavor, like a marriage of sriracha and miso. I want to try lots of Korean recipes now, and started with bibimbap. This is a nice quick filling recipe with lots of different flavors that takes about half an hour to prepare. If you can't find gochujang, you can replace it with sriracha in this recipe, with maybe a little miso mixed in for the fermenty element. It will taste a little different, but still delicious. The sauce is SPICY, so if you are sensitive to spice it may be better to half the amount of chili sauce and taste before adding the full amount to your plate. You can pick lots of different veggies to go with this dish. I went for cucumber, broccoli, carrot and bell pepper, but bean sprouts, asparagus, spinach, mushrooms and bok choi among others also work really well. This is a great recipe to use up odd ends in your fridge. You van also sub the tempeh with tofu, vegan chicken, seitan or other protein.
Ingrediënten
1 tablespoon soy sauce
2 tablespoons rice vinegar (or regular white vinegar)
200 g / 7 oz tempeh, sliced into squares
1 small red bell pepper, in strips
4-6 broccoli florets, in thin spears
1 carrot, grated
1/2 cucumber, in strips
300 g / 10 oz raw cauliflower, riced
2 tablespoons gochujang chili paste (or sriracha)
2 tablespoons rice vinegar (or regular white)
1 tablespoon soy sauce
1 teaspoon sesame oil
concentrated liquid sweetener to taste
2 tablespoons sesame seeds
Preparation
Mix the soy sauce with the vinegar in a bowl and dip in the tempeh squares. Set them aside for a minute or two. In the mean time, cut your veggies. Heat a skillet with some oil and fry the tempeh on medium heat. Take it out of the pan when it's done. Keep the pan on the heat and use it to sauté the peppers, broccoli and carrot. Cover with a lid and cook for a minute or two so the veggies keep some of their bite. At the same time also stir fry the cauliflower rice with some oil in another pan until tender. In a small bowl, mix the chili paste, vinegar, soy sauce, oil and sweetener. Add a little water if the sauce is too thick. Divide the cauliflower rice over two plates and put the tempeh, peppers, broccoli, carrot and raw cucumber on top. Pour the chili sauce over the veggies and tempeh and sprinkle with the sesame seeds. Mix everything on your plate before eating.