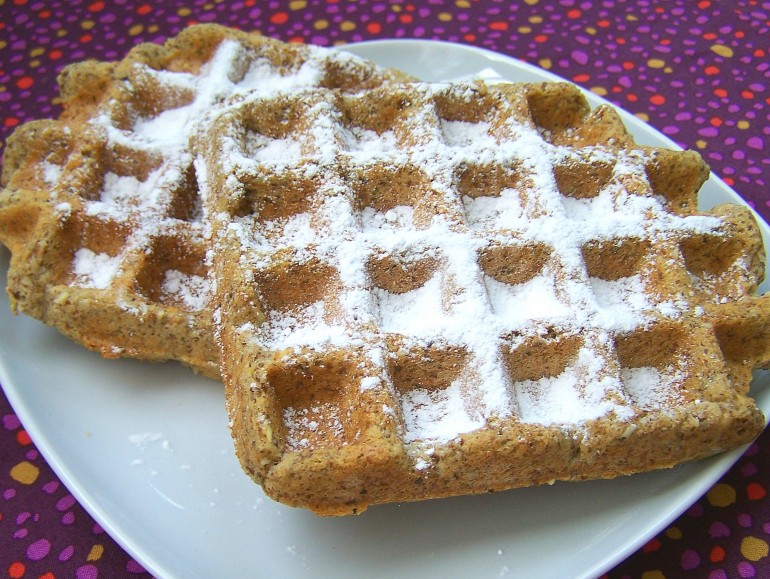 I have tried many times to make vegan low carb pancakes, but its extremely difficult if you can't use eggs or any kind of starch. I haven't found any low carbohydrate vegan flours that make a liquid batter that sets when heated. Some flours like soy or almond meal absorb very little water and others, like flax, that do absorb water start to thicken almost immediately so they don't make liquid pancake batter. If someone has a solution for this problem I'd sure love hear about it!
After some brooding, I had a small Eureka moment. Waffles! In a waffle iron the batter gets squeezed between two plates, so it doesn't matter if it's more like gooey dough than actual liquid batter. After some experiments, I came up with this delicious recipe. The waffles are easy to make and very high in protein, so they are perfect for a quick filling meal.
This recipe makes four square waffles. Depending on the exact nutritional values of the flours you use, one waffle has about 4 or 5 grams of carbohydrate. If you replace the soy flour with protein powder the carb count is only 2 or 3 grams per waffle. That's really low, especially for such a traditional carb food like waffles!
Four waffles are sufficient as a big breakfast or lunch for two people. If you're on your own, you can easily halve the recipe. You can top the waffles with fruit, erythritol or sugar free syrup. If you want savory waffles, you can leave out the sweetener and cinnamon.
Ingredients
1/2 cup (40 g) soy flour or protein powder
1/2 cup (70 g) vital wheat gluten
2 tablespoons flax meal
2 tablespoons almond flour
2 teaspoons baking powder
1/2 teaspoon salt
1/3 teaspoon cinnamon
1 cup unsweetened soy or almond milk (or just use water)
1/2 teaspoon concentrated liquid sweetener (or to taste)
1 tablespoon vegetable oil + extra for greasing the iron
Instructions
Preheat your waffle iron to medium high heat (this depends on how hot your iron gets, our cheap ass iron barely gets hot enough on the highest setting).
Put all the dry ingredients into a bowl and mix well. Add the milk, sweetener and oil and stir with a spoon until it forms a thick dough-like batter (a few small lumps are okay). Do not add additional liquid, even if you think the batter is too thick.
Grease your hot waffle iron with a little oil. Scoop a portion of the batter onto the center of the iron. You can spread it our a bit with a spatula or spoon. Close the iron so the batter spreads out all the way to the edges and corners.
Wait patiently until the indicator light say that your waffles are done (it can take a while). Don't peak before they're done, because the waffles will tear or split in half if you open the iron before they are all the way done. These are more delicate than carb-filled waffles. When the waffles are done and have turned golden brown, you can carefully pop them out with a fork. Bake the remaining batter the same way.
One waffle (of 4) contains about 193 kcal, 10 g fat (1 g saturated), 4 g net. carbohydrate, 3 g fiber en 20 g protein.