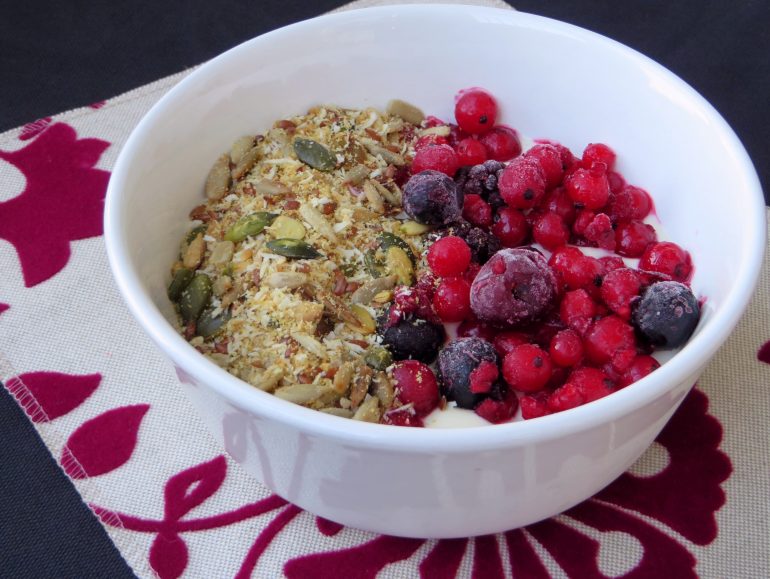 This granola is David's favorite breakfast. He has been eating this every morning for almost three years now! It is gluten free and paleo friendly. I guess you even could even make it raw, but I like a little toasty flavor to it.
Since we go through this stuff fast, I make a huge batch in my largest skillet about once a month. That takes about 20 to 30 minutes. In the recipe below, I scaled down the amounts a bit, so you can try it and not get stuck with too many leftovers if it turns out you don't like it. If you make this smaller amount, it will be done very quickly.
Once you get the hang of it you can play with the recipe as much as you like and add any nuts or seeds you enjoy. I usually stick to shredded coconut with sunflower, pumpkin and flax seeds to keep it affordable, but hemp seeds, walnuts, hazelnuts and almonds also taste really good in this. I grind up some of the flax so it is more filling and the omega-3 fats are more easily absorbed to balance out the omega-6 from the other seeds.
David eats this granola with Alpro soy yogurt and some frozen berries, but you could also sprinkle it on a smoothie bowl, use it in baked goods, whatever you fancy. You can easily adjust the sweetness to your liking, or leave out sweeteners altogether.
Ingredients
1 cup sunflower seeds
1/2 cup pumpkin seeds
1/2 cup shredded dried coconut
concentrated liquid sweetener to taste (optional)
1/4 cup whole flax seed
1/4 cup ground flax seed
Instructions
Preheat a skillet to medium high on your stove. Pour in the sunflower and pumpkin seeds and toast them until they start to turn golden brown. Stir well while toasting, so they don't burn.
Take the pan off the heat and and the shredded coconut. Stir in the sweetener until the granola is sweet enough for your taste.
Sprinkle in the whole and ground flax (don't do this earlier, or the flax will absorb the liquid sweetener, making it difficult to distribute it evenly over the granola).
Let the granola cool completely and transfer it to an airtight container. It will keep for at least a month in your pantry, and much longer in the fridge or freezer.