by
in
| | |
| --- | --- |
| Tags: | Proteins |
| Time: | Preparation time , cooking time , total time |
| Serves: | 1 small loaf |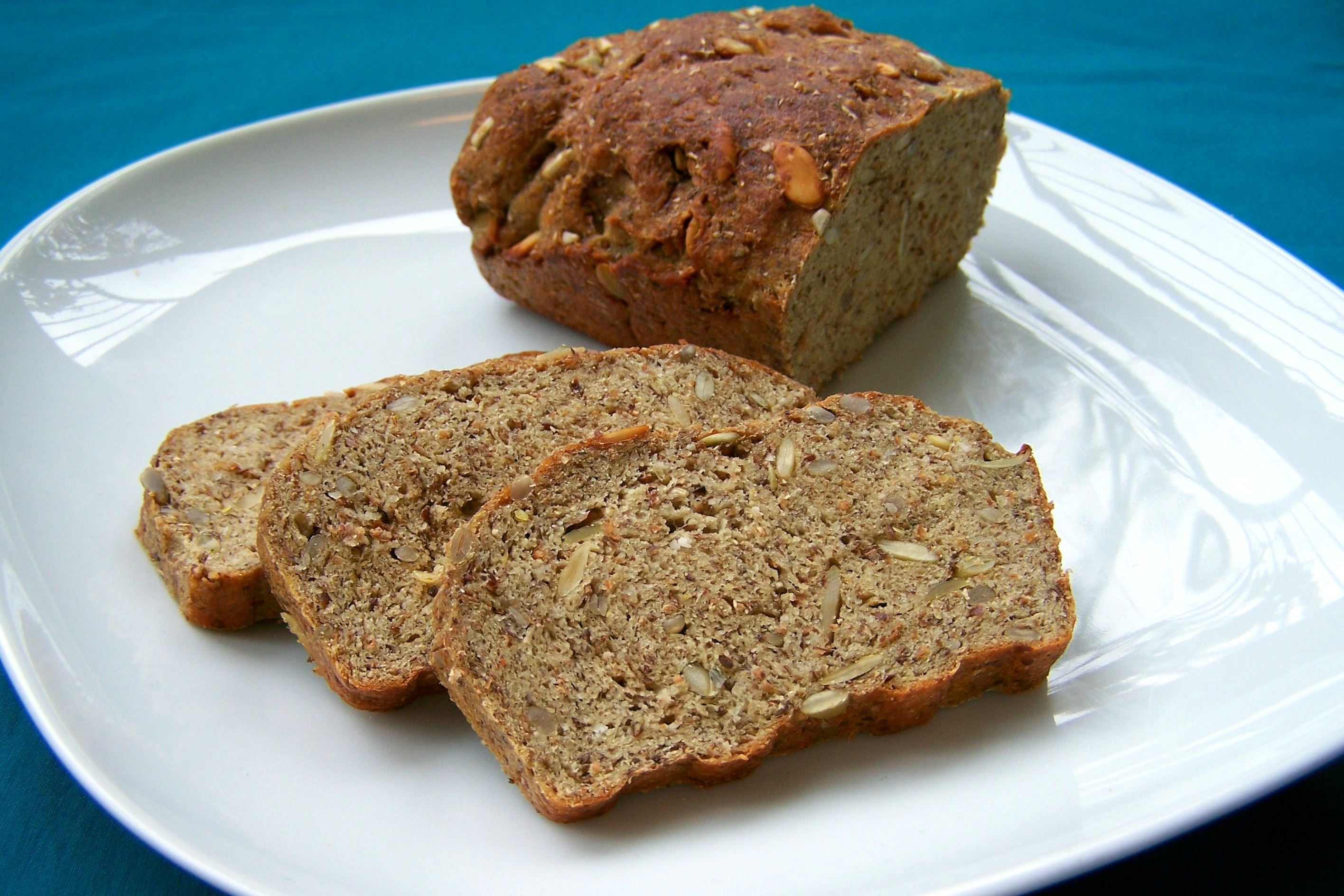 I'm so happy I invented this bread! The recipe makes a great high protein low carb bread with a nice authentic flavor. It's not at all gummy like some gluten based low carb breads are. It's pretty dense and stick-to-your-ribs, almost like Ezekiel, but still has a lovely soft crumb.
It's great for open faced sandwiches and toast. You can combine it with savory spreads or vegan cheese or sweet toppings like low carb fruit. It also goes very well along with a bowl of soup or stew. It freezes great so I like to make a double or triple batch and have some around for a quick meal or snack.
Ingredients
1 cup = 240 ml
1 1/2 teaspoon instant yeast
1 cup (80 g) soy flour (substitute half with protein powder for even fewer carbs)
1 cup (140 g) vital wheat gluten
1/2 cup (50 g) flax meal or home ground flax
4 tablespoons (10 g) wheat bran
4 tablespoons (30 g) almond flour
2 tablespoons sunflower seeds (optional)
2 tablespoons pumpkin seeds (optional)
1 teaspoon salt
1/2 tablespoon baking powder
1 1/3 cup (320 ml) lukewarm water
1/2 tablespoon olive oil
Preparation
Put all the dry ingredients into a large bowl. Whisk them together and eliminate any lumps of flour. Add the water and olive oil and use a fork to mix everything into a soft, but not sticky ball of dough. Use your hands to knead the dough for a minute or two and then form it into a large roll.
Grease a small loaf pan with some extra oil and push the roll of dough into it. Turn the roll over and push it in again, so it gets covered in a thin film of oil on both sides. Cover the loaf pan with a towel or cutting board and let the bread rise in a warm place for 90 minutes until it has doubled in size.
Preheat the oven to 180 C or 350 F and bake the bread for 35 minutes until is is nicely brown and sounds hollow when you tap on it. Let the bread cool down slightly and then turn it out of the pan. Wait for it to cool completely before cutting it into slices. It will keep for a few days at room temperature and multiple months in the freezer.
One slice of bread (of 18 slices) contains about 81 kcal, 3,5 g fat (0,4 g saturated), 2,4 g net carbs, 2 g fiber and 8,5 g protein.