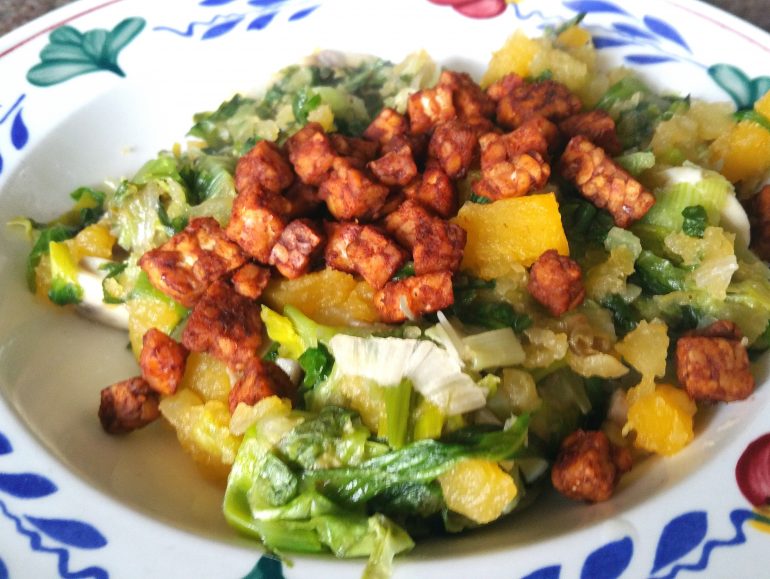 Dutch mash-pot (stamppot) is a traditional dish made from mashed potatoes and vegetables. It is similar to Irish colcannon. Many Dutch people still eat this at least once a week, especially in winter. It is like ultimate comfort food and it used to be one of my favorite meals when I was a child. It is pretty quick to prepare too! Fortunately, it is very easy to make it vegan and low carb. Just replace the mashed potatoes with a low carb alternative like rutabaga or cauliflower.
Ingredients
300-400 gram rutabaga or cauliflower, chopped
a few tablespoons of unsweetened plant milk or cooking cream
salt and pepper to taste
2 tablespoons oil, separated
1 leek, in half rings (you can substitute onion of spring onion)
250 gram button mushrooms, sliced
300 gram raw escarole or lettuce (or boiled kale), shredded
200 gram tempeh, cubed small
1/2 teaspoon smoked paprika
1 tablespoon soy sauce
Bereiding
Bring water to a boil in a pot and cook the rutabaga until very tender, about 10-15 minutes. Mash into a puree using a potato masher, large fork or food processor. Add a few tablespoons of plant milk or cooking cream to make it nicely smooth. Add salt and pepper to taste.
In the mean time, saute the leek and mushrooms in the first tablespoon of oil until slightly browned and tender. Mix the cooked vegetables into the mash and also mix in the raw escarole or lettuce so they wilt a little. Keep everything warm in very low heat while you prepare the tempeh.
Heat the second tablespoon of oil and fry the tempeh until nicely browned. Mix in the soy sauce and smoked paprika and cook for one minute more.
Schoop the mash-pot onto plates and sprinkle with the tempeh.