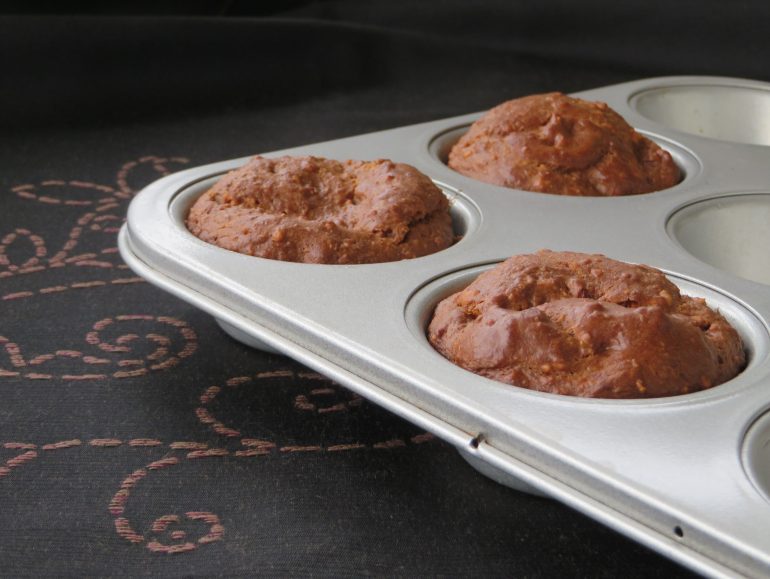 The inspiration for this recipe comes from Liz over at Meat Free Keto. She is a low carb vegan baking genius and I want to try all her cookies, muffins and pie crusts.She recently posted a recipe for gingerbread muffins made from peanut butter. Before finding her blog I had never thought about using nut butters as a base for baked goods, but it seems to work really well, so I will definitely be experimenting more with that!
When I was getting out my baking stuff to make the muffin recipe, I realized I was more in the mood for savory muffins than sweet. So I left out the sweetener and added a little soy sauce, ginger, garlic and chili. With these ingredients the muffins basically taste like solid fluffy satay sauce. Win! Eat these as a snack or serve them as a side dish with some soup. Be sure to also try out Liz's sweet version though, because I am sure it is equally delicious.
Ingredients
1 tablespoon flax seeds, ground
1/2 scant cup plant milk (coconut would be really good)
1/2 cup peanut butter (smooth or crunchy both work)
1/2 tablespoon soy sauce (or coconut aminos)
1 teaspoon ginger
1/2 teaspoon garlic powder
1/8 teaspoon chili flakes
concentrated liquid sweetener to taste (you can go without, but I think a tiny bit is nice)
1/2 teaspoon baking powder
Instructions
Preheat the oven to 400 F / 200 C. Add all the ingredients except the baking powder to a bowl, and mix until it forms a smooth batter. At first it might look like it won't emulsify, but just keep mixing and soon enough it will start to come together. Add the baking powder and stir it in.
Grease 6 muffin tins or put cupcake liners in them (the muffins tend to stick, so using liners or silicone muffin pans is recommended). Scoop in the batter, place in the oven, and bake for about 25 minutes. The muffins are done when a knife inserted in the center comes out clean. Allow to cool for at least half an hour, and enjoy!