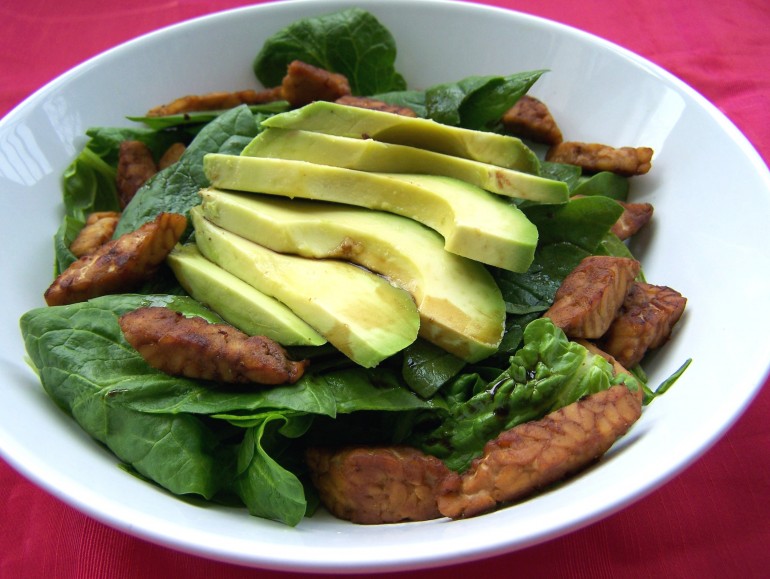 I love to eat protein-filled salads for lunch. They are nice and filling and don't spike my blood sugar so I can work without being distracted by snack cravings all afternoon. Tempeh is one of my favorite proteins. It's really quick and easy to prepare and very versatile because you can spice it up all kinds of different ways. Your meals come together even faster if you prep the tempeh in advance.
In this salad I went with a nice smoky marinade that combines really well with the creamy avocado and the tangy balsamic vinaigrette. If you like your lunch a bit more filling, you can bulk this salad up with some almonds, hemp seeds or pumpkin seeds.
Ingredients
For the tempeh
200 gram tempeh
2 tablespoons soy sauce
1 tablespoon vinegar
1 teaspoon liquid smoke
1 tablespoon vegetable oil
For the salad
180 gram lettuce or spinach, sliced
1 avocado, sliced into strips or cubes
1 tablespoon balsamic vinegar
1/2 tablespoon olive oil
1/4 teaspoon concentrated liquid sweetener (or to taste)
1 handful of roasted almonds, chopped (optional)
Instructions
Make the tempeh
Slice the tempeh into strips or cubes (triangles or diamonds are also cute!). Mix the soy sauce, vinegar and liquid smoke in a bowl. Put in the tempeh and toss it around for a bit to evenly cover all the pieces in marinade. Let the tempeh sit while you preheat a non-stick skillet to medium high heat. Sauté the tempeh in the oil until it is nicely browned on all sides. Take care it that doesn't burn.
Make the salad
Divide the lettuce or spinach over two bowls and mix in the balsamic vinegar, olive oil and sweetener. Place the sliced avocado, tempeh and almonds (if using) on top, or jumble everything together if you don't care what it looks like and serve!
Half of this recipe (a one person serving, including the almonds) contains about 530 kcal, 40.8 g fat (6.5 g saturated), 12.7 g net carbs, 9.2 g fiber and 29.6 g protein.