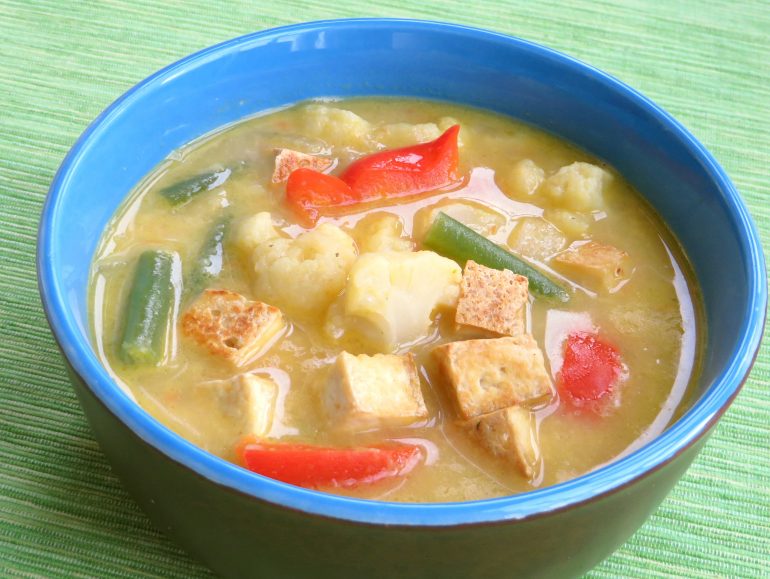 I love meal soups. They are quick and easy to make, and you can chuck in any ingredients you have lying around. This Thai-ish version is nice to use up all the odd ends of veggies that are lying around in your fridge. Peppers, selery, cauliflower, broccoli, carrot, leeks, rutabaga, parship and many others work well in this. If you don't have some of the veggies in the ingredient list, just substitute something else.
Ingredients
1 onion, minced
1 bell pepper, in strips
1 garlic clove, minced
2-3 handfuls of green beans, peas or broccoli, in small pieces
2-3 handfuls of cauliflower, in small pieces
1 1/2 cup (1 can) cooked chickpeas (optional, if the carb count doesn't have to be super low)
1 heaping teaspoon unchicken or vegetable bouillon powder
3 cups water
2 tablespoons (green) Thaiy currypaste
3 oz /100 g creamed coconut in a block (or replace half the water with a can of coconut milk)
16 oz / 500 g firm or extra firm tofu, cubed
Instructions
Sauté the onion in a little oil until it is translucent. Add the bell pepper and garlic and sauté for another minute. Add the green beans, cauliflower, optional chickpeas, bouillon and water. Bring to a boil and cook for 6-7 minutes until the veggies are done. Stir in the currypaste and creamed coconut.
In the mean time, fry up the tofu cubes in some oil until they are crispy and golden brown. Divide the soup over 3 or 4 bowls and sprinkle the tofu on top.