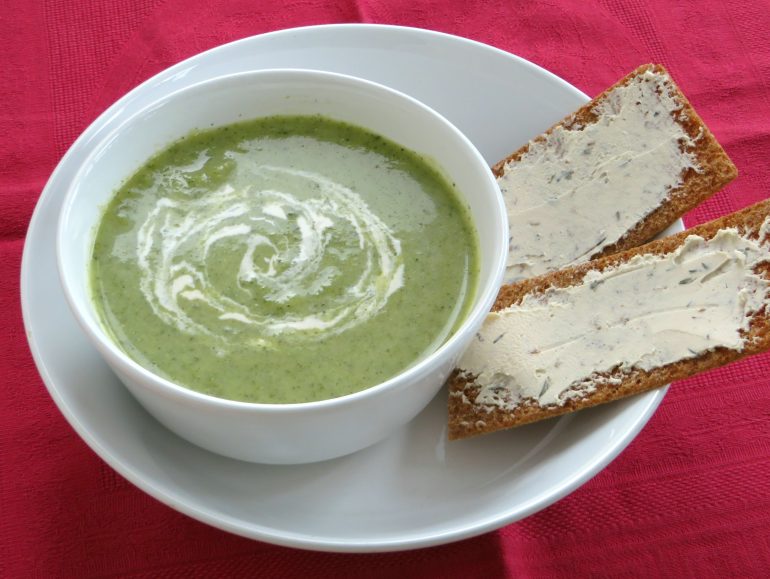 I love a nice creamy soup when it's cold outside. Serve it with some high protein bread or crispbread spread with tofu-cream cheese and you've got yourself a meal. All you have to do is sauté the veggies in some oil, add water and some flavorings, let it cook and puree with your blender. Super easy!
Ingrediënten
1 tablespoon vegetable oil
1 small onion, diced (can be omitted for lower carb count)
1 zucchini, in chunks
1 large head of broccoli, in florets (you can also peel and cube the stem)
3 cups (750 ml) water
1 tablespoon vegetable broth powder
1 clove garlic
1/4 teaspoon dried thyme
1/4 teaspoon dried oregano
salt and pepper to taste
1/3 cup vegan cream or yoghurt (optional)
Instructions
In a soup pot, sauté the onion and zucchini in the oil until the onion starts to brown. Add the broccoli, water, and flavorings. Bring the soup to a boil and cook for 10 minutes until the vegetables are soft. Take the pot off the heat and puree the soup with an immersion blender or regular blender. Taste the soup and add salt and pepper if you want. Divide the soup over 3 to 4 bowls and top with vegan cream or yoghurt.