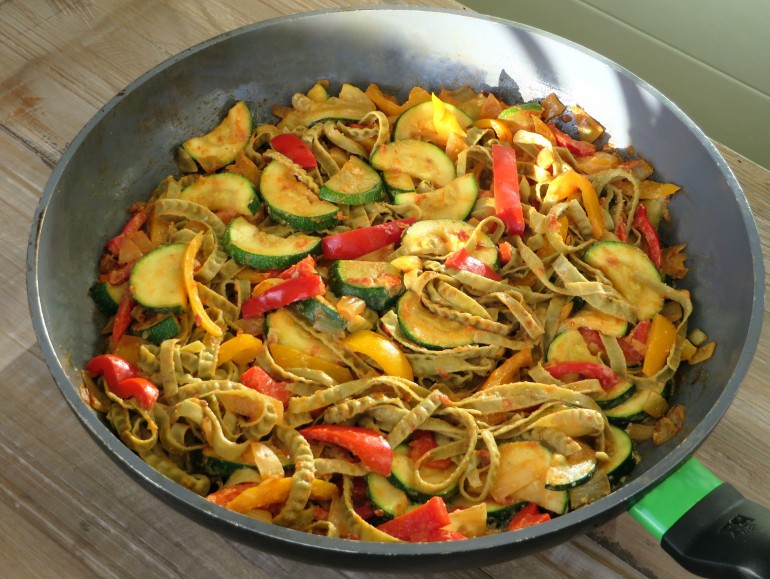 This recipe goes back to when I was a student and had to cook my own meals for the first time. I used to make it with crème fraîche and tortellini. Now I veganize it with soy yoghurt and make it low carb with soy noodles instead of pasta. It's still a very tasty meal and super quick to prepare.
The soy noodles are a new favorite of ours. They are very filling, high in protein and tasty too. They have about 10 g net carb, 5 g fiber and 18 g protein per 50 g serving, which makes a big bowl full. They have a nice bite to them and taste just like regular noodles, maybe a little bit more earthy, which I actually like a lot. They go well with all kinds of dishes, both Asian and Italian. We can get three varieties, thin white and black noodles, and the wider green noodles that I used for this pasta dish.
If you don't have soy noodles, you can replace them with zucchini or shirataki noodles. Those don't have much protein, so if you do that it's a good idea to serve the pasta with some marinated tofu, tempeh or a vegan meat analogue. Instead of the soy yoghurt you could use another vegan sour cream substitute. The tomato tapenade can be store bought or you can make your own with the recipe I posted last week.
Ingredients
100 gram / 3.5 oz soy noodles
1 tablespoon vegetable oil
1 onion, diced
1 big red bell pepper, cut into strips (or 2 smaller peppers, one red and one yellow)
1 zucchini, cut in half rounds
2 garlic cloves, minced
3 tablespoons sundried tomato tapenade or pesto
6-7 tablespoons unsweetened soy yoghurt
2 tablespoons roasted pine nuts or sunflower seeds (optional)
Instructions
Prepare the noodles according to the instructions of the package.
Put a large skillet on medium high heat and add the oil. Sauté the onion and bell pepper for about five minutes until the onion is soft. Add the zucchini and garlic, cover the pan with a lid, and let the vegetables cook for a few minutes longer. Give everything a toss half way through. It's nice if the zucchini still has a little bite to it, so taste for doneness and make sure you don't overcook it.
Mix the tomato tapenade and yoghurt into the vegetables. Add the cooked pasta and give it a good toss. Divide the food over two plates and sprinkle some pine nuts or sunflower seeds over it if you like.
Nutritional value
Half of this recipe (a one person serving, including the pine nuts) contains about 450 kcal, 24 g fat (3 g saturated), 24 g net carbs, 13 g fiber and 26 g protein.