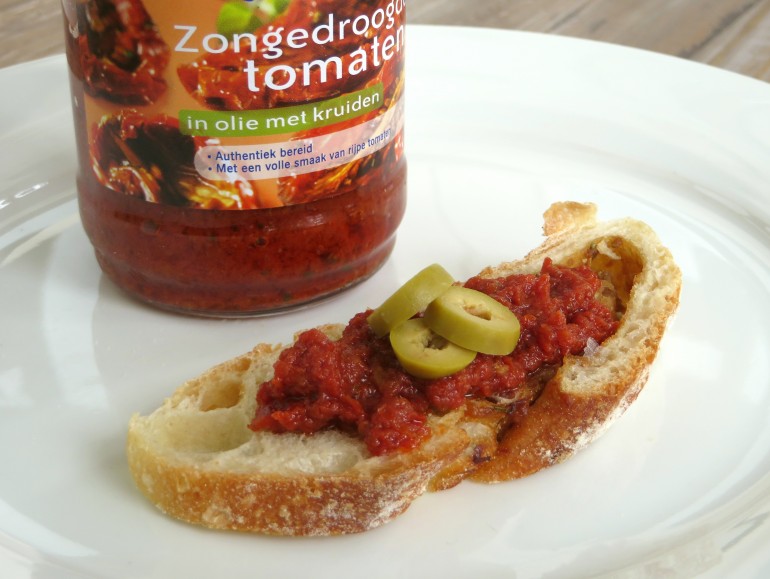 Yum, tomato tapenade! I like to eat it on crackers, use it as a sauce for pasta and even as a salad dressing (sorry for the not-quite-low-carb picture here...). Store-bought tapenade is often expensive and it can be difficult to find vegan versions, so I like to make my own. It's super easy if you use a jar of sundried tomatoes in oil as the base.
This whole recipe has about 50 gram of net carbs, but it makes a LOT of tapenade, so it comes down to about 2 grams of carbs per tablespoon. This is very flavorful stuff, so one tablespoon is usually enough to spice up a salad or a bowl of lc noodles or veggies.
This is a no-waste recipe because you use the whole contents of the sundried tomato jar, including the oil, and any spices and garlic that are in it. As you can see in the picture I also reused the jar itself to store the tapenade. If you do this, you will need a second container, because the recipe makes more than what fits in the original jar.
In addition to the sundried tomatoes I also add a bit of tomato paste for extra tomato flavor. It's a very flexible recipe. You can add some chili flakes to make it more spicy or work in some olives or fresh herbs. If you'd rather have a creamy pesto instead of tapenade, leave out the lemon juice and sweetener and add a handful of nuts and two tablespoons of nutritional yeast. You'll also need to add a bit more oil if you go that route.
Ingredients
1 300 g / 10 oz jar of sundried tomatoes in oil
2 tablespoons concentrated tomato puree
3-4 tablespoons olive oil (or water)
2-3 tablespoons lemon juice
1 garlic clove, minced
1/4 teaspoon salt (ajust to how salty your tomatoes are)
1/4 teaspoon concentrated liquid sweetener (or to taste)
Instructions
Dump the contents of the jar of sundried tomatoes (including the oil, herbs, garlic cloves etc.) into the bowl of you food processor or high speed blender. inclusief de olie, kruiden, stukjes knoflook etc.) Add all the other ingredients and process until all the large chunks have been pureed into a smooth tapenade.
Transfer the tapenade to a jar. You can poor a thin layer of oil over it so it will stay fresh for longer. Store the tapenade in the fridge. This way it will keep for a month or more.