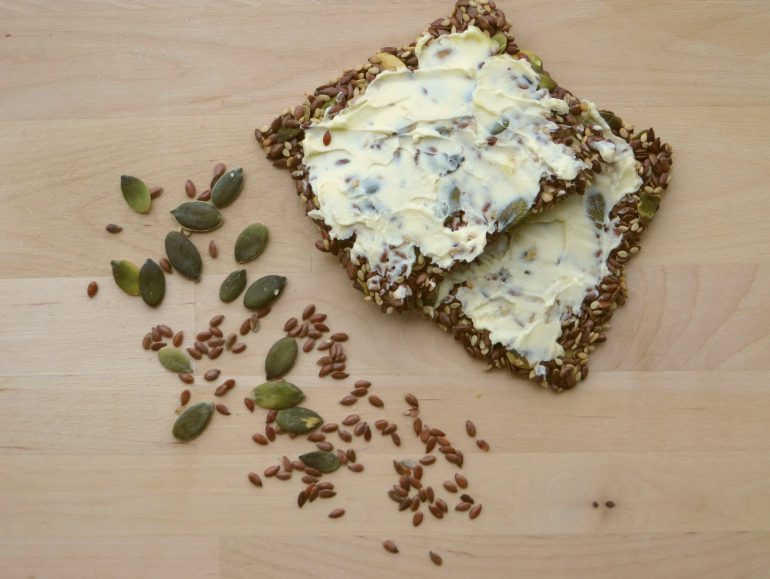 I already had recipe for flax crackers on the website, but this one is a lot easier and also cheaper to make. These crackers are a bit less sturdy than the other ones, but as you can see they still stand up to a spread and other toppings.
I have written out a simple savory version below, but you can add herbs and spices to make any flavor you fancy. You can even make it sweet by reducing the salt and adding some concentrated liquid sweetener and cinnamon or other spices and flavors. You can also replace any of the seeds with another variety such as hemp seed, poppy seed or some kind of chopped or ground nuts. These would make a lovely holiday gift if you wrap them in a nice box.
Ingredients
1 cup flax seeds
1 cup pumpkin seeds
1/2 cup sesame seeds
1/2 teaspoon salt
1 cup hot water
Instructions
Preheat the oven to 150 C / 300 F. Mix all the ingredients in a bowl and let them sit for about five minutes so the flax can form a gel. Cover one large or two smaller baking sheets with parchment paper. Spread out the seed batter over the parchment paper in a thin layer. Use a knife or pizza cutter to divide the batter into crackers.
Bake the crackers for 25 minutes until they are firm. Take care that the edges do not burn. Turn off the oven, but leave the crackers in with the door closed for another hour or more so they can dry out completely. Store the crackers in an airtight container. They will keep for at least two weeks.