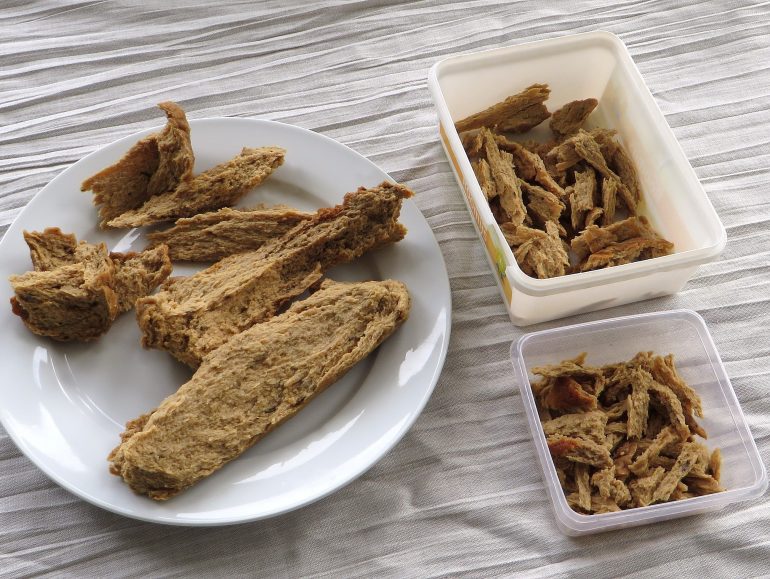 I loooove seitan! It's cheap, low carb, high protein and super tasty. This new recipe is even lower in carbs and meatier than my 'basic seitan' recipe that I posted a few weeks ago. It is a little bit more work to make, but still really easy. The combination of vital wheat gluten and pureed tofu gives this seitan a tender bite and the special kneading technique creates a super meaty fibrous texture. You can tear it into pieces and use it in stir fries and stews, or even shred it with a fork to make vegan pulled chicken.
Ingredients
8 oz / 250 g firm tofu
3/4 cup (180 ml) water
3 tablespoons soy sauce
2 tablespoons nutritional yeast
2 teaspoons garlic powder
1/2 teaspoon dried sage
1/2 teaspoon dried thyme
1/2 teaspoon salt (optional)
1 tablespoon oil
1 1/2 cup (210 g) vital wheat gluten
Instructions
Add all the ingredients except for the vital wheat gluten to the jar of your blender of food processor and puree them to a completely smooth batter. Pour it into a mixing bowl and mix in the vital wheat gluten with a spoon until it starts to form a dough. Turn the dough out onto a clean work surface and divide it into two pieces. Knead each piece folding it, pressing it flat and folding it again. Repeat the folding about 10 times, so the gluten gets a layered texture and forms long stretched fibers.
Form the pieces of kneaded dough into rolls and wrap them loosely in aluminium foil to seal in the moisture and flavor during steaming or baking. Preheat your oven to 175 C / 350 F OR bring water to boil in your steamer pot. Bake the seitan for 100 minutes OR steam it for 45 minutes until it has expanded and is firm to the touch.
Let the seitan cool down and tear or shred it into little pieces along the natural fibrous grain that was formed during the kneading. You can also cut it with a knife, but I prefer the texture of the shredded pieces. The seitan will keep for a few days in the fridge, or for a few months in the freezer.