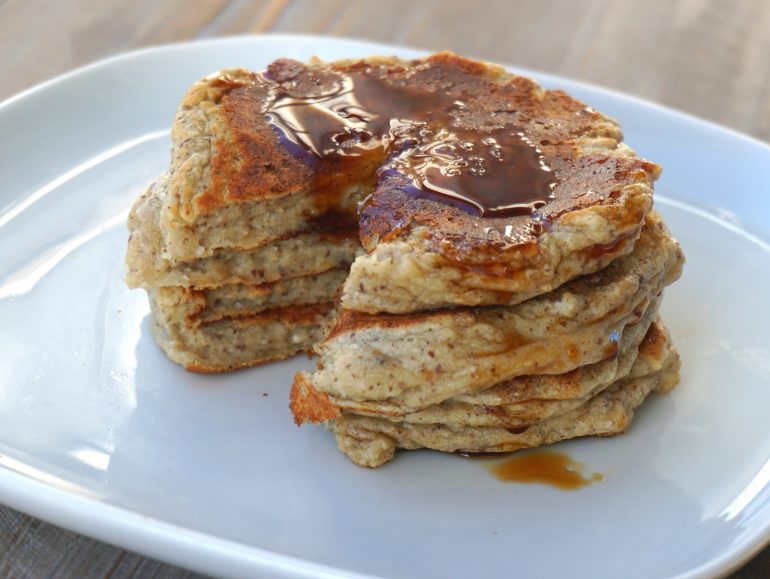 I have long lamented the lack of a good low carb vegan pancake recipe. Thankfully my
fellow Dutchy and low carb genius Alynda
solved the problem, by tweaking
my waffle recipe
into pancakes. It never quite worked out when I tried to do that, so I'm really quite indebted to her. She shared this wonderful invention in the
Vegan Keto group
on Facebook, so we could all experiment with it. I made a few more tweaks to adjust the recipe to my preferences and what I had on hand. The protein powder I use absorbs water very fast, so my pancakes came out quite a lot thicker than Alynda's, which were more crêpe-like. She will probably post her version of the recipe pretty soon. I really like the flavor and texture of these pancakes. They are crisp on the outside and fluffy on the inside, with a nice slightly 'eggy' taste, even though they are of course entirely egg-free. The inside can get slightly soggy, which I want to try and improve, but I like them so much already that I wanted to share the recipe as is (with kind permission from Alynda of course).
Ingredients
1/4 cup protein powder (I used Holland & Barrett soy protein)
1/4 cup vital wheat gluten
1 tablespoon ground flaxseed
1 tablespoon almond meal
1/4 teaspoon baking powder
1/4 teaspoon salt
1/2 to 3/4 cup unsweetened soy milk, almond milk or water
1 tablespoon oil for the batter (I used canola)
more oil for frying
Instructions
Combine all the dry ingredients in a bowl and mix well. Add the milk and oil and stir until a thick batter forms. Different varieties of protein powder absorb different quantities of liquid, so start with 1/2 a cup of milk and add up to 1/4 cup more until you get a thick gloppy consistency. If your batter is a little more liquid, that's fine too, your pancakes will turn out more like crêpes. Pea protein for instance may give you a more liquid batter than the soy protein I used. Preheat a skillet to medium low heat and add a generous amount of oil to the pan. If the heat is too high or if you skimp on the oil, the pancakes will stick like crazy. Add little pancake sized globs of batter to the pan and flatten them a bit with the back of your spoon if needed. Now be patient. Your pancakes will stick to the pan at first, but they will release once they are properly cooked. This will take a few minutes. If you try to turn them over too early, you'll have a very hard time getting them out. Again, don't turn up the heat to high, or they'll stick even worse. Once the bottoms of your pancakes are golden brown and the sides have started to set, you can flip them. Let the other side cook for a few more minutes and then take them out of the pan. If you have more batter, add some new oil to the skillet and repeat. Serve your pancakes with sugar free syrup or preserves, fresh fruit, peanut butter, or whatever you like.