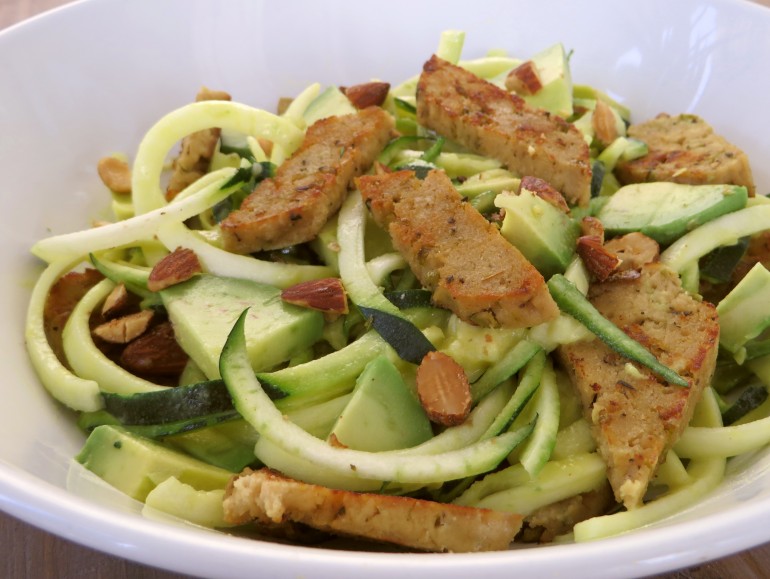 This is my new favorite meal salad. The spicy mustard dressing combines really well with the hearty seitan and creamy avocado. With only about 10 grams of carbohydrate, this is a real low carb winner! It uses the same seitan recipe as the lettuce wraps I posted a few days back. I make this seitan in large batches and freeze it, so I always have some on hand to make a quick meal.
I finally convinced myself I needed spiral cutter to make 'zoodles' (zucchini noodles) with. I got the Spirelli by Gefu and I'm pretty pleased with it. It's easy to use and doesn't take up a lot of space, which is essential in our tiny kitchen. If you don't have a spiral cutter, a mandolin also works. If you have only have basic kitchen equipment, you can just cut the zucchini into thin strips (julienne) with a knife.
Ingredients
200 gram olive-lemon seitan (equals 1/4 of the recipe I linked to above)
2 tablespoons mustard
1 tablespoon olive oil
1 tablespoon vinegar
1/4 teaspoon concentrated liquid sweetener (or to taste)
1 large zucchini, cut into noodles
1 avocado, cubed
1 handful smoked or roasted almonds, chopped
Instructions
Cut the seitan into strips. Heat a skillet with some oil on medium high and sauté the seitan until it is nicely golden brown on two sides.
In a small bowl mix the ingredients for the dressing (mustard to sweetener) with a fork. Divide the zucchini noodles over two bowls and mix them with the dressing. Put seitan, avocado and almonds on top and serve!
Nutritional info
A one person serving (half of this recipe) has about 495 kcal, 37 g fat (5 g saturated), 11 g net carbohydrate, 10 g fiber and 26 g protein.