by
in
| | |
| --- | --- |
| Tags: | Cheap, Quick recipes |
| Time: | Preparation time , cooking time , total time |
| Serves: | 1 lunch |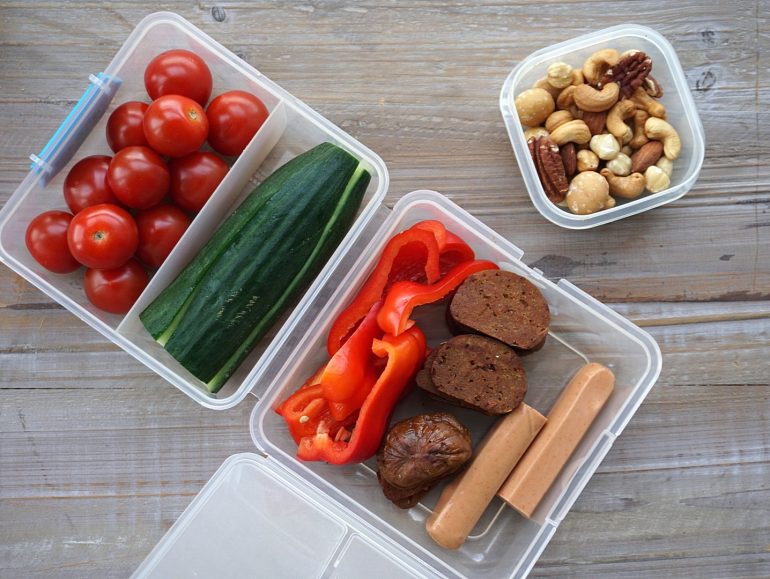 Wow, it's been a while. My previous post was in February, I can't believe it's been that long! We had a family vacation in the US, I finished my PhD (yay!) and we fell off the low carb bandwagon big time. Now all that excitement is behind us, it's time to get back to it. Summer is here and we are enjoying the lovely local produce.
David asked for snack style lunches that he can easily eat in his office and on the go, to replace the carby sandwiches he has been having. I don't feel quite up to the effort of baking low carb bread yet, so snacks it is! Below I made a list of items that you can easily throw together to create a snack style lunch. You could get everything ready made from the store, but you could also make a habit of doing small meal preps or just cook some extra proteins, veggies and sauces when you make dinner.
Options
Vegan (seitan) sausages or seitan nuggets
Raw, roasted or steamed veggies
Dips like mayo, vegan cream cheese, nut butter, low carb hummus, tzaziki etc.
Vegan unsweetened yoghurt (mix in extra oil to get higher fat soy yoghurt)
Nuts and seeds
Nut butter chocolate fudge (recipe coming soon)
A handful of berries or other low carb fruit
Cucumber 'sandwiches' with tofu cream cheese
Half an avocado
A thermos with vegan bullet proof coffee or cocoa
In the pictured container I put various raw veggies, homemade fried seitan sausage slices and some store bought sausage for variety. For myself I would have added a container with a fatty dip, but David feels dips are 'too messy' when he has to eat on the go. So I packed some extra nuts for added fat. After taking the picture I decided some more sausage was needed, to make it more filling.
You'll have to experiment a bit to see how much and which types of food you need to have a satisfying meal. Also adjust for you personal carb allowance. David's lunch in the picture has about 25 g net carbs, so it is more of a medium carb meal. If you want to keep it very low carb, limit the veggies a bit, watch the carb count of your protein and make sure you have enough fat.