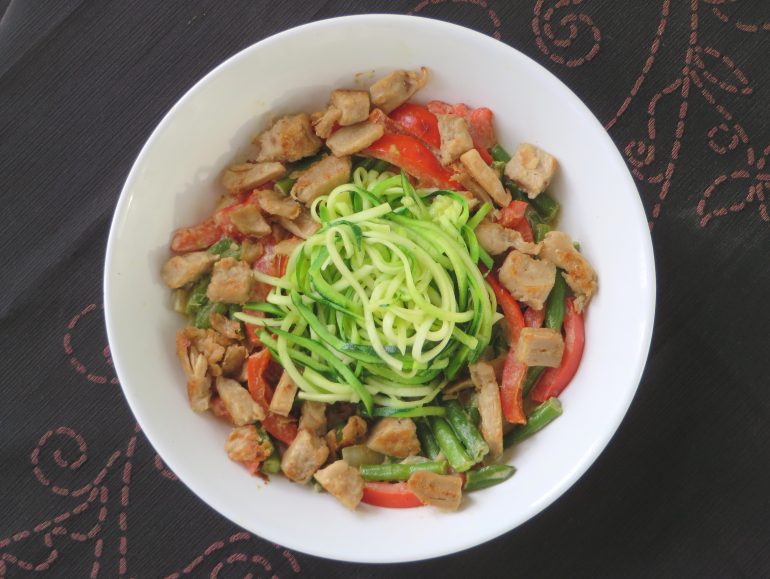 I love Thai food. Thankfully it is very easy to make it vegan and low carb. In this recipe I go the easy route and used a store bought curry paste. The result tastes great and is very easy to make. It has about 25 gram carbs and 450 calories for a big and very filling serving.
I like to make this with cauliflower rice, but cauliflower is quite expensive here right now, so I switched to zucchini noodles instead. The recipe contains instructions for both. I used a local Dutch brand of vegan 'chicken' cubes for this recipe, but you can use any vegan protein you like, including tofu or seitan.
Ingredients
300 gram zucchini or cauliflower
150-200 gram vegan chicken, seitan or tofu, in bite size pieces
1 small onion, diced
1 small red or yellow bell pepper, in strips
2 handfuls of small broccoli florets
2 handfuls of snap peas or halved green beans
2 tablespoons green Thai curry paste
1/2 cup full fat coconut milk
Instructions
Spiralize or grate the zucchini into noodles, or rice the the cauliflower in a foodprocessor, depending on which you are using. Set aside.
Heat a splash of oil in a large skillet and fry the vegan chicken pieces untill they are crisp and slightly browned. Remove them from the pan and set aside.
Put the skillet back on the heat and add the onion, pepper, broccoli and peas. Cover with a lid and let the veggies cook for about five minutes. Toss them a few times so they cook evenly.
In the mean time heat a second skillet with a little oil and sauté the zucchini noodles or cauliflower rice for 2 or 3 minutes until they are al dente. Add salt to taste (I like salt on the cauliflower, but leave it out if I use zucchini). Take off the pan off heat and set aside.
When the stir fried veggies are almost done, add the curry paste and coconut milk, and allow simmer for another minute or two. Divide the curry over two plates and serve with the unchicken pieces and the zucchini noodles or cauliflower rice.