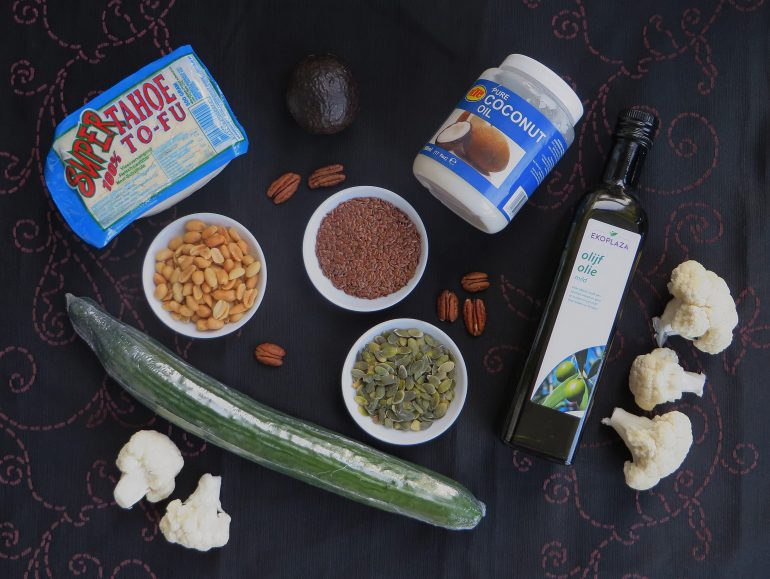 Previously I discussed how low in carbs you can go on a vegan diet. Since almost all vegan products contain at least some amount of carbohydrate, it can be a real challenge to go very low. For many plant-based eaters a medium carb diet is therefore the best choice. However, some people need to eat a truly ketogenic very low carb diet for medical reasons, for instance to control epileptic seizures. This too can be done vegan style, but it will take quite a lot of dedication to do it right.*
Achieving ketosis is all about getting enough healthy fat, since this is going to be your body's fuel. To begin, you can go for a maximum of 20-30 g of carbohydrate, 60-100 g protein (at least 1 g per kg of healthy body weight) and 150-220 g fat. The amount of fat largely depends on how many calories you need. If you are a small person or trying to loose weight, you will need fewer calories and therefore less fat. The range listed above will give you between 1800 and 2500 kcal.
Daily food list
So how can you get these macros on a vegan diet? The daily food list below is an example for a 2000 kcal diet, which will also provide you with well over the RDA for most essential vitamins and minerals. You will need to take B12 supplements, as always on a vegan diet. If you do not get a lot of sunlight, a vitamin D supplement is always a good idea. I would also recommend taking omega 3 DHA algae supplements, and not being overly shy about adding iodized salt to your food. If you need more calories, add extra oil and/or nuts. If you want to make it completely paleo proof or soy and gluten free, sub the tofu/seitan with some more hemp and pumpkin seeds.
1-3 tablespoons olive oil, avocado-oil, nut oil, coconut oil or MCT oil
1-2 avocados
30 g hemp seeds
20 g pumpkin seeds or pumpkin seed butter
20 g ground flax seed
40 g nuts (pecans, brazil nuts, macademia, most other nuts contain more carbs)
40 g peanuts or natural peanut butter (not more, because of the carbs)
100 g tofu or seitan (or tempeh, if you can find one low in carbs)
1 cup (250 ml) unsweetened plant milk or yoghurt, calcium fortified
300-500 g vegetables (lettuce, spinach, arugula, mushrooms, endive, napa cabbage, cucumber, green peppers, fennel, seaweed etc.)
30-40 g berries (strawberries, raspberries)
1,5 - 2 liter water and other fluids (tea, coffee, sugarfree fruit flavored syrup)
How to eat this much fat?
Eating this many fatty foods plus extra oil can seem daunting at first, but once you learn a few tricks it's not that hard. Nuts and seeds can be eaten as snacks, sprinkled on all of your meals and blended into smoothies and sauces. Avocados can be eaten on their own, in salads, in smoothies or as chocolate mousse. Oils can be added to lots of different foods to make them extra delicious. Mix them into your yoghurt, sauces and dressings, chocolate mousse, smoothies or or nut butters; make bullet proof coffee or cocoa; mix up some delicious sugar free chocolates or nut butter cocoa fudge.
It can be helpful to set out all your food for the day on the kitchen counter in the morning so you know what and how much to eat. Meal planning and food prep also help make it easier. Make sure you always have a few quick fat bombs on hand for when you feel hungry. A few bags of frozen veggies in the freezer are very helpful for making quick meals.
Meal suggestions
Here are some suggestions for meals you could eat on this diet. Some of them are more breakfast-like and others are more traditional lunch and dinner type meals, but don't let that stop you from eating them when you feel like it. I have included links to recipes when I have them on the website. I will post more in the future. You will often have to tweak the recipes a bit to make them completely keto proof. I have added some notes where this is the case.
Yogurt with seed granola (use hemp instead of sunflower)
Avocado smoothie (add extra oil)
1 whole avocado sprinkled with salt, of mashed with salt and lemon juice
Tofu scramble with avocado
Steamed or raw vegetables with tofu/seitan en peanut satay sauce
Stir fry with veggies, tofu/seitan and peanuts
Marinated tofu fillet with steamed veggies and mayo or cheezy sauce
Cauliflower mash with tofu cream cheese (leave out cashews and add extra oil) and tofu bacon
A bowl of raw or steamed veggies, roasted tofu and a mayo-based dip
Lettuce wraps with tofu or seitan and garlic sauce
Salad with tofu feta and olives
Palak tofu paneer curry (you may want to use less tofu and more fat and coconut milk)
Thai coconut milk curry (make sure it has enough fat)
Pureed veggie or mushroom soup with nut butter or coconut cream
Casserole with veggies and hemp-nutritional yeast sauce
Stuffed veggies with tofu or nut crumbles and nut butter
Snacks
A handful of nuts and seeds
A handful of green olives
1/2 avocado
A flax cracker spread with vegan butter or tofu-cream cheese
A few cubes of nutty cocoa fudge (peanut butter, cocoa powder, coconut oil, sweetener)
A few cucumber slices with tofu cream cheese (leave out cashews and add more oil)
Tofu 'egg-salad' with mayo on cucumber slices or a flax cracker.
Raw or steamed veggies with a dip
Chocolate mousse (can be made with avocado to make soy free and paleo)
A cup of cocoa drink from 1 T cocoa powder with 4 T coconut cream and hot water (extra oil can be added)
Disclaimer
*This blog post is not medical advice. If you are experiencing health problems, always consult with a medical doctor. Do not experiment with your diet without proper guidance from professionals.